Email
Email Features and Technology
Most companies today depend on email and collaboration services to keep their businesses running and they simply can't afford to have any downtime. Nor can they afford to spend any more time in administrating, maintaining and supporting the email solution. It's time to free up your resources and let the hosting experts take care of all of your email needs.
Siteserver has a variety of business email solutions, which can meet your needs that are all fully supported by certified, expert technicians, who are available 24x7x365. And, with an all-out, no excuses, absolute commitment to doing whatever it takes to ensure you're 100% satisfied, 100% of the time.
Fully clustered e-mail hosting servers
POP3/IMAP/SMTP and SSL support
Spam and virus protection
Unlimited EMail Aliases
Unlimited EMail Forwarding
24x7 Support (online, email, and phone)
Web-Based control panel for account management
Read EMail on any web browser through WebMail
Intuitive Webmail
With Siteserver's Webmail interface is intuitive for both casual and power users, Siteserver provides access to email, instant messaging, calendars, contacts, notes, and tasks from any device or tablet with a Web browser. If you don't want to use an email client like Outlook, you don't have to; all of Siteserver's Webmail functionality is available using a web browser.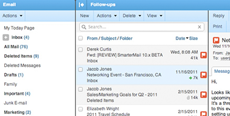 Key technology components include:
Process specific load-balanced server clustering
Real time data replication between storage servers
DNS load-balanced clustering
Built-in failure detection
OpenBSD Firewall security
Intrusion Detection Systems & packet filtering
Simple Storage Service (S3) nightly backups
Data backups in three dispersed data centers
In-line spare servers
100% Cisco powered internally redundant network
Conditioned power and UPSs with failover UPSs
Diesel engine backup generators
Redundant HVAC and dust filtering
Continuous surveillance
Fire supression
Certified staff trained in maintaining critical systems
Virus and Spam Filtering
Every load balancing configuartion is custom designed and built. SingleHop offers both Linux and Microsoft Windows cluster configurations.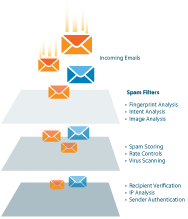 Load Balancing
Database replication creates a real time mirror of your database on another server. This is useful for data redundancy, and performance reasons. Also see the master-slave configuration diagram.