Referral Program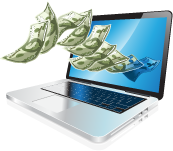 Let's Get Started!
We're excited to introduce our new Customer Referral program, which pays you $35.00 for every account you refer to Siteserver. It's simple to sign-up for, in fact, if you're one of our existing customers, you're already enrolled! To locate your Referral ID, simply login to your control panel (link to https://cp.siteserver.com) using your Account Number and Password, then click "Referral Program" in the toolbar.
Frequently Asked Questions
How do I join the Siteserver Referral Program?
If you're an existing customer, you're already enrolled! To obtain your referral ID, simply login to your control panel. If you're not an existing Siteserver customer, click here to join our company as a Referral-only customer.
What qualifies as a valid referral?
Any customer referral that results in a sale of one of the following services: Web Hosting, Dedicated Servers, Co-Location, or Managed Backup. To qualify, the referral must mention your referral ID by phone, or enter it on our online order form when prompted. In addition, we will also supply you with a HyperLink and Graphics you can display on your web-site that will automatically credit any sales to your Referral Account.
While we've created this program to be as flexible and rewarding as possible, there are a few exclusions:
You will not receive a credit for the referral an existing Siteserver customer.
The referral account must remain in good standing with Siteserver for a period of 60 days.
How are my referrals tracked?
All Referrals are tied to your unique Referral ID. Whether a customer signs up over the phone, through our online order form, or a link off your web-site(s), the referral ID will be sent to Siteserver. Once a successful signup has been processed, a credit is generated to the corresponding account.
Most Importantly, How do I get paid?
We will credit your Siteserver account for the amount of the Referral Credit. If your account is at a $0.00 Balance, a credit will be issued that you can allow to accumulate, or request a payment through our control panel. Any accumulated credits will be applied towards current or future Siteserver invoices.
Siteserver will process your payment request within 5 business days of receiving it. Payments will be sent via PayPal.
You didn't answer my question, who can I contact?
Please send an email to sales@siteserver.com or call us at 877-932-4678 with any questions you may have.
We look forward to working with you in the future as a Siteserver Partner!