Cloud Servers
Build and deploy in minutes
With Cloud Servers you get what you want when you need it. Make a new server for staging and four new servers for production. Delete one, create three more. You only pay for what you use!
Provision from 512MB to 64GB of Memory
Provision from 10GB to 2TB of Disk Space
Choose from Windows or Linux OS
Scale Resources as you grow
Accessible via online Control Panel
Provision new servers in minutes
Full Root Access
Hardware is completely managed
No long-term commitments
What are the benefits?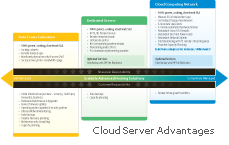 The benefits are numerous. Cloud Servers require no hardware maintenance, no upfront hardware costs, and include blazing fast EMC storage at a fraction of the cost of dedicated hardware. Instances are fully monitored 24x7x365 by our Network Operations Center to insure optimal performance, at all times. Your valuable data is replicated off-site (out of state) to an alternate Data Center every night for added data protection.
How It Works
Cloud Servers make server provisioning hassle-free while providing top-notch performance!
Select a Size for Your Cloud Server


Cloud Server sizes are measured by the amount of memory and disk storage required. You may provision from 512MB to 64GB of Memory, and 10GB to 2TB of Disk Space.

Select Your Operating System


Choose from a variety of popular 32-bit or 64-bit Linux Distributions including Ubuntu, Debian, Gentoo, CentOS, Fedora, Arch and Red Hat Enterprise Linux. For Windows-based servers we support Windows 7, Windows 2000, Windows 2003, and Windows 2008.

Your Server is Provisioned in Minutes


One the configuration is confirmed, the server is built in one of our high performance clusters. An IP address and login are provided, giving you full root (administrator) access to the Cloud Server instance.